Dry dams, leaky pipes and tanker mafias – Karachi's water crisis
Pakistan's largest city is struggling to deliver water to residents amid a shortfall and claims of state mismanagement
"There's nothing here," says Farzana Khatoun, surveying the dry expanse of land before her. "We don't even have enough water to wash up for prayer, do our laundry or wash our dishes." Khatoun cannot simply turn on a tap and expect water to gush out; her home is not connected to the water pipelines of Karachi, the sixth most water-stressed city in the world.
Karachi – home to more than 20 million people – is currently meeting just 50% of its total water requirement, according to officials from the Karachi Water and Sewerage Board (KWSB). The city needs 1.1bn gallons of water daily but can only supply 550m gallons per day (MGD). Meanwhile, Karachi's population growth rate of 4.5% per annum means that nearly a million newcomers – economic migrants, refugees and internally displaced people – enter the city every year, further stressing the already-limited water supply.
"Since this government came into power in 2013, we haven't had water," says Mofiz Khan, a shopkeeper in Orangi Town, an economically depressed area in westernmost Karachi. Khan has tried different methods to provoke a response: he's written letters, demonstrated on the streets and waited in long queues for water tankers, at times getting into a fracas with other water-starved residents.
The water crisis is the result of several factors. Scarce water resources persistently fail to meet the massive demand from a burgeoning population. The Hub Dam went dry earlier this year, leaving Karachi with just one water source, the Indus river, which is more than 120km away.
This long transmission route also causes problems – leakages and water thefts account for the loss of almost 30% of the city's water supply, according to Jawed Shamim, former chief engineer at KWSB. This is exacerbated by the poor performance of outdated and inefficient pumping stations.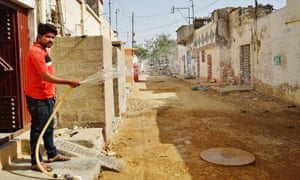 When the water does reach citizens, distribution inequalities arise; there is no metering system to monitor real use or water waste. A "water tanker mafia" also illegally punctures pipelines and siphons off water to sell at inflated rates on the black market, highlighting other problems linked to chronic corruption, mismanagement and poor governance.
"In many places, such as Korangi, people end up having to buy the water that was intended for their homes," says journalist Taha Anis, adding that neighbourhoods closer to a supply source tend to receive a greater share of the city's water reserve. Frustrated by the water paucity and poor quality, almost three-quarters of Karachi residents do not pay their water bills, according to the KWSB.
But the worsening water scarcity has also resulted in civil unrest. This month, Muttahida Quami Movement (MQM) protesters smashed clay water pots in front of the chief minister's home, calling on the government to address the water shortage.
Inhabitants of the impoverished Yousaf Goth neighbourhood have also demonstrated against water losses and power cuts paralysing their area. In response, the chief minister, Syed Qaim Ali Shah, offered free water tankers to Karachi's most parched areas.
With Ramadan – the Islamic month of fasting – and temperatures rising with the onset of a heatwave, residents fear the water scarcity and blistering heat will result in another public health crisis. Last year's heatwave – also coinciding with Ramadan – claimed the lives of more than 1,300 people with the city's acute water shortage widely seen as a major culprit.
"Inshallah, when the heatwave comes, no death will occur," says the Sindh health minister, Jam Mehtab Hussain Dahar, whose provincial government has already set up more than 170 rehabilitation centres in the city, including water distribution points to stave off dehydration and heatstroke.
To alleviate the crisis, Karachi's water board is working on the 25.5bn rupee Karachi-4 (K-4) project, which will provide an additional 650 MGD to the city by drawing water from Keenjhar lake. Expected to start later this month, critics contend that there will be a gap in supply and demand by the time the initial phase is completed in two years. By then, the population will have climbed further, increasing the burden on the available water supply.
KWSB is also seeking to reroute pipelines to decrease leakages, as well as upgrade the city's main pumping station, Dhabeji, to boost flow across supply lines. A desalination plant has also been suggested, but that brings its own expensive problems.
The water crisis in Pakistan's largest city is part of a broader trend of water insecurity affecting the entire country. The water shortage is Pakistan's biggest threat , the Federation of Pakistan Chambers of Commerce and Industry said earlier this year, as most citizens earn their livelihood in the water-dependent agricultural sector. By 2025, it is forecasted that Pakistan – the world's sixth most populous country – will have depleted its available water supply and that by 2040, the country's water stress levels will dwarf that of all neighbouring countries in the region.
As with many mega cities in the developing world, the question of whether supply can keep up with the demands of a booming population as well as crises in government management of basic resources remains unanswered. For some Karachiites, just turning on the tap yields an answer.
Source: The Guardian. Date: June 28, 2016
https://www.theguardian.com/global-development-professionals-network/2016/jun/28/karachi-pakistan-water-crisis