The Land Rush in Myanmar
Bruce Einhorn and Chris Blake
Asian money pours in, but sanctions limit U.S. investment.
After decades of military rule, Myanmar at last has a democratically elected government. Longtime opposition leader Aung San Suu Kyi's party took charge in March, with her ally Htin Kyaw becoming president and the Nobel laureate herself serving as foreign affairs minister. In response, the U.S. last month announced a partial rollback of economic sanctions first imposed in 1990 in an attempt to get the country's generals and their cronies to relax their hold on power. The new policy will make it easier for American companies to do business in Myanmar. However, it doesn't go far enough for Khin Shwe, the founder of Zaykabar, a construction company that's on a U.S. blacklist of Myanmar businesses and individuals. Now that the country has freely elected leaders, he says, "they should lift sanctions."
For Myanmar, a lot rides on whether and when the U.S. further relaxes trade and investment restrictions, which include travel bans and asset freezes targeting companies and individuals associated with the old regime. Two-thirds of its 53 million people live in the countryside, many without electricity. Annual per-capita gross domestic product is $1,200. Myanmar "is one of the few remaining largely untapped markets in the world," wrote analysts Ong Kian Lin and Kasamapon Hamnilrat of Malaysia's RHB Research Institute in a May 31 report.
That may not last long. The Asian Development Bank projects Myanmar's economy will expand 8.4 percent this year and 8.3Ωpercent in 2017, making it Asia's best performer. Foreign direct investment was a record $9.48 billion in the fiscal year ended March. Most of the money is coming from other parts of Asia. Japan's JGC and Singapore's Yongnam Holdings and Changi Airport Group are part of a consortium that in January signed an agreement to build a $1.5 billion airport in Yangon, Myanmar's biggest city. Vietnamese real estate developer HAGL Group in March started work on a $230 million residential and office development in Yangon, having already opened a $440 million hotel and office complex last year. Japanese Prime Minister Shinzo Abe has pledged 100 billion yen ($935 million) in loans to fund infrastructure projects.
"The interest among investors is tremendous," says Romain Caillaud, senior director covering Southeast Asia for FTI Consulting in Singapore. "There is really a lot of hope."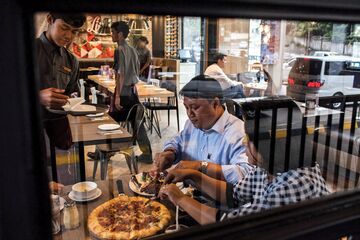 The country's oil and gas industry draws one-third of all foreign direct investment. Australia's Woodside Petroleum early this year announced two offshore gas discoveries, and China's Guangdong Zhenrong Energy and local partners in April won approval for a $3 billion oil refinery with a capacity of 100,000 barrels a day.
U.S. companies have been tiptoeing in. After Aung San Suu Kyi's party took part in the 2012 elections, President Obama lifted a ban on most Myanmar imports and allowed American companies to form partnerships with local businesses, so long as they don't appear on the sanctions list compiled by the U.S. Department of the Treasury. Coca-Cola and PepsiCo now have bottling plants in the country, while Ford and General Motors have opened dealerships. Krispy Kreme Doughnuts announced plans last August for 10 shops, and private equity firm TPG in December bought half of Myanmar Distillery, which sells a popular brand of whiskey. The country's first fast-food restaurant, KFC, opened last year. There are still no McDonald's or Starbucks.
With the latest easing of sanctions, announced in May, U.S. companies can have dealings with seven formerly blacklisted state-owned enterprises, use the main port, and work with state-owned banks. The policy change "will make life a lot easier" for companies hoping to enter oil and gas, mining, power, and real estate, says Tom Platts, a partner in Singapore with the law firm Stephenson Harwood. "We are going to see more U.S. interest in Myanmar."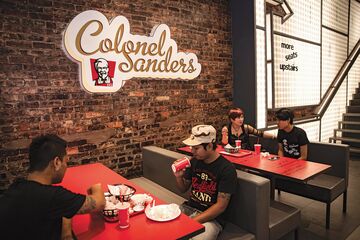 Still, American companies continue to face obstacles. Sanctions create "an unlevel playing field," says Judy Benn, executive director of the Myanmar chapter of the American Chamber of Commerce. The restrictions against working with companies or people associated with the junta have "handcuffed" U.S. companies, she adds, estimating the policy puts "about 75 percent of the economy" off-limits. Even something as simple as wiring money is a challenge, says Aye Thiha, chief executive officer of Yangon-based Thiha Group, which has joint ventures with Thai partners to operate pizza and ice cream shops, as well as a steel pipe factory. "You have to prove you're not on the sanctions list," he says. U.S. banks "don't want to go through the headaches, so they opt out of it."
On May 22, U.S. Secretary of State John Kerry met with Aung San Suu Kyi in Naypyidaw, the capital, and said further easing of sanctions would depend on progress in democratization. The U.S. also has concerns about the treatment of the Rohingya, Muslims who are longtime residents but whom the government says aren't citizens. Aung San Suu Kyi herself isn't demanding the U.S. remove all restrictions. "We believe that if we are going along the right path, all sanctions should be lifted in good time," she told reporters after meeting with Kerry. That time, she added, will come "soon."
The bottom line: Despite a gradual easing of sanctions, large sectors of Myanmar's economy remain off-limits to U.S. businesses.
Source: Bloomberg. Date: June 7, 2016
http://www.bloomberg.com/news/articles/2016-06-09/the-land-rush-in-myanmar