The hidden wonders of Banaue: A 'Biyahe ni Drew' itinerary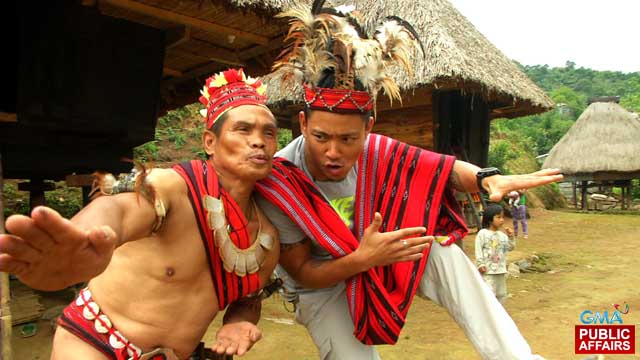 You've seen it in books, on television and in postcards but believe us when we say that nothing comes close to the real thing. That's right, Biyaheros: The Banaue rice terraces are truly a wonderful sight to behold!
However, even if Banaue is mostly known for its famous rice terraces, this province is also rich with hospitality and traditions that you will find nowhere else. Discover the hidden wonders of Banaue in this "Biyahe ni Drew" itinerary.
How to get there
Banaue, Ifugao is nine hours away from Manila. Once you are in the province, you can hire a jeepney to take you to your chosen destination. Not all places are reachable by car so be prepared to walk through rice fields for at least 30 minutes. The best time to visit Banaue is during the planting season (February and March) and during the harvest season (July).
What to do
Go sightseeing and swimming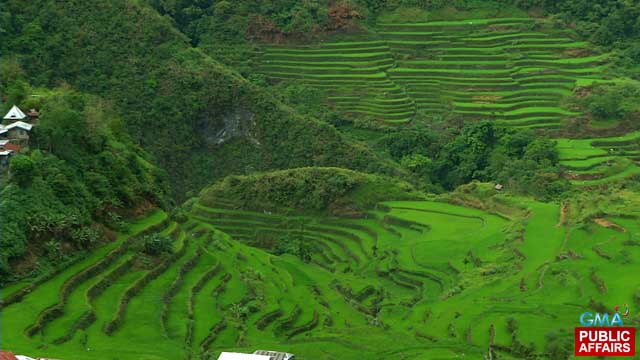 When someone says Banaue, images of the 2,000-year-old Banaue rice terraces automatically spring to mind. However, did you know that the Banaue rice terraces is just one of the many of its kind in Ifugao?
Welcome to Batad, a place where you can find lesser known but equally beautiful rice terraces. Biyahero tip: The rice terraces in Batad is considerably more difficult to reach compared to others. Don't forget to use comfortable shoes and bring a trekking pole or stick to make your journey easier.
You can also drop by the Tappiyah falls, a remote waterfall which you can reach on your way to Batad. It is an ideal stopover especially if you want to swim and wash off the grime from your trek.
Another popular swimming destination in Banaue is the Gihob natural pool, which is just 20 minutes away from the town proper. The natural pool is connected to a dam so the locals can control the flow of water. Drew says, "Para kang nasa bahay. Bathtub na mapuno."
If you are the type of Biyahero who prefers to swim in hot water, visit Bogya hot springs. The trek from the Banaue town proper to this natural spring takes more than 30 minutes but the warm bath waiting for you is worth the distance. You can even choose where to swim based on the temperature you prefer.
"Sa bandang kaliwa ay mainit dahil mula ito sa bukal," Drew explains. "Ang sa bandang kanan naman ay malamig dahil mula ito sa ilog."
Meet the locals
Immersing in the culture of the local community is a must when you are in Banaue. One option is to visit Tam-an Cultural Village, where the locals hold special presentations for tourists. These immersions not only help educate Biyaheros but also help Ifugaos preserve their traditions. The presentations are pre-arranged so if you want to witness one, make sure that you inform your tour operators in advance.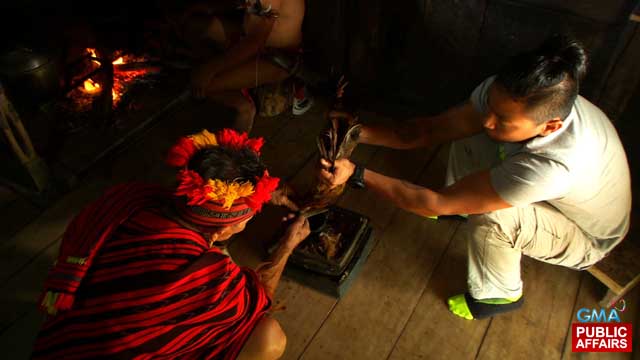 As soon as Biyaheros reach Tam-an, they will be invited to perform a traditional ritual with the locals. Chicken is offered to the gods and rice wine is shared. The locals believe that if the gods are pleased with the offers, the visitors' trip will be 100% safe.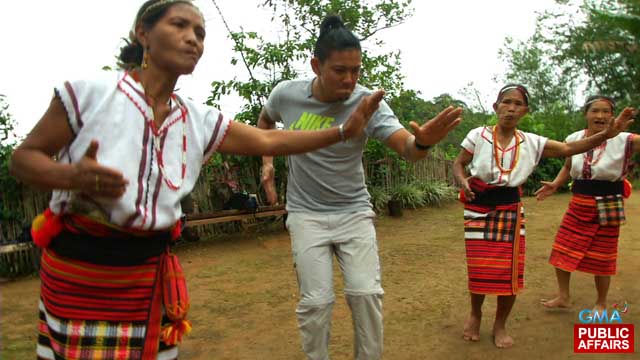 Ifugaos will also gladly share their songs, dances, and weaving practices with tourists. If you are lucky, you can witness an actual wedding ceremony that is not a part of the cultural presentation. You can even watch as the Ifugaos make food from their crops.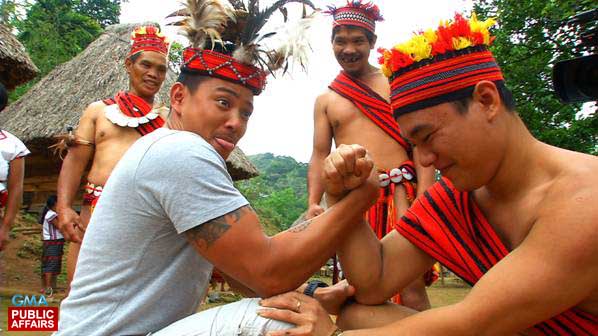 Drew got the chance to engage in a wrestling match with the locals for fun. We learned that this is how the Ifugaos settle disputes over land, money and relationships.
Ride a wooden scooter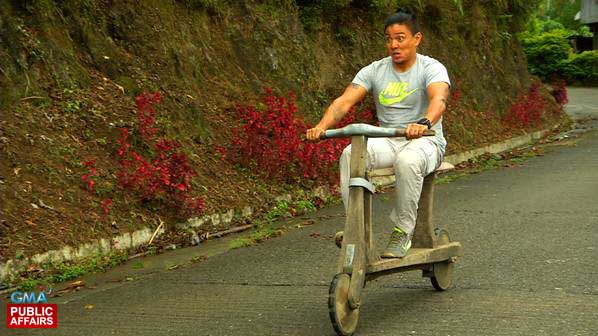 The Ifugaos use wooden scooters to transport goods up and down the mountains. However, as time passed, these wooden scooters have evolved from mere modes of transportation to a thrilling pastime among the locals. In fact, scooter racing has become a regular part of the annual Imbayah Festival, which is held in Banaue every April.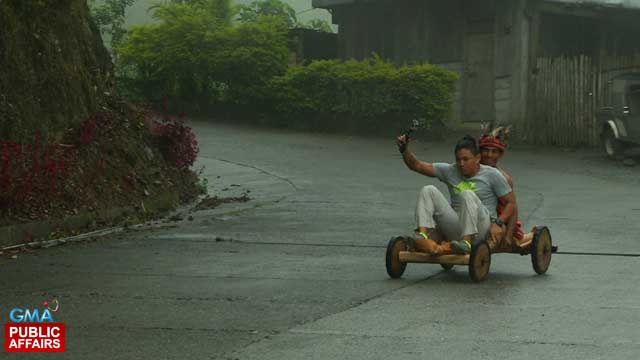 Drew learned how to ride a wooden scooter from Robert Duyyogen, a two-time downhill scooter racing champ in the Imbayah Festival. Kuya Robert showed our favorite Biyahero how to ride the standard Ifugao wooden scooter and a four-wheel scooter that he himself made. His advice: Ride the scooter like you are riding a bicycle.
"May fear factor kasi hindi mo alam kung may sasalubong sa'yo," Drew says after riding a wooden scooter for the first time. "Mas mabilis. Mas mabigat. 'Pag control ko, very sensitive… Buti na lang nandito si Kuya Robert."
Where to eat and stay
Native Village Inn
Room rates start at P1,600
Drew and the rest of the "Biyahe ni Drew" team stayed at Native Village Inn, a native-themed hotel located near the rice terraces. The rooms and cottages are small and have no air conditioners but the temperature is chilly. The dining area also serves as the perfect spot to view the Hapao rice terraces.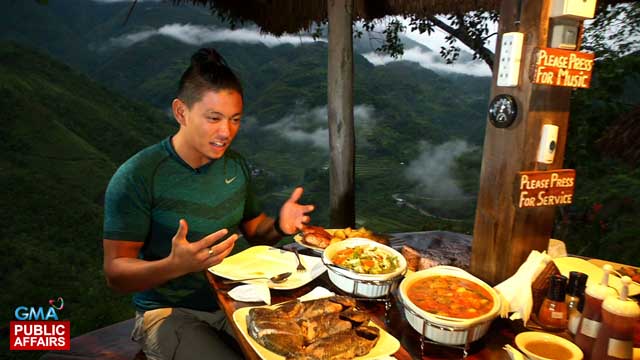 "Sarap ng klima, perfect," Drew says. "Paano ka hindi gaganahan kumain? Pagkain sa harap mo, bagong luto. View mo ganyan… Sobrang sarap!"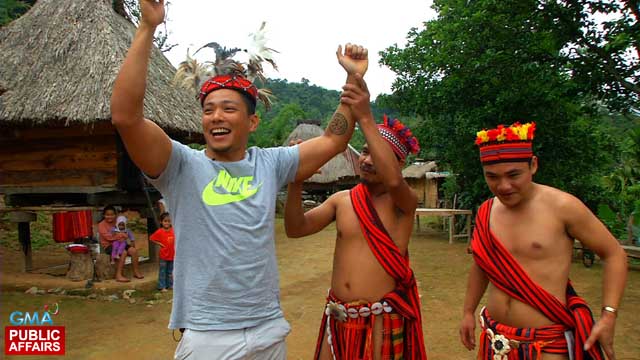 Banaue is more difficult to reach and has lesser tourist accommodations compared to other destinations in the Philippines. However, this is also what makes the province charming and unique.
More than the rice terraces, the true wonders of Banaue are the locals who have preserved their rich traditions even after years of colonization and modernization.
Source: GMA Network. Date: June 2, 2015
http://www.gmanetwork.com/news/story/496950/newstv/biyahenidrew/the-hidden-wonders-of-banaue-a-biyahe-ni-drew-itinerary