Malaysia's Third-Biggest Developer Says It's Time to Shop for Land as Rebound Seen
Mah Sing Group Bhd. said it is ready to buy more land after holding back in 2015 as the company predicts a rebound in Malaysia's property sales in the second half of the year.
The nation's third-largest property developer by sales is seeing signs of renewed confidence from consumers as they move beyond negative reports on the currency and political developments, said Group Managing Director Leong Hoy Kum in an interview. The company has a record 1.4 billion ringgit ($338 million) cash pile for land acquisitions, he said.
"The market has stabilized," Leong said at his office in Kuala Lumpur Tuesday. "Every weekend is shopping time for me and sometimes I charter a helicopter to look at land the size of 500 acres to 1,000 acres."
Shares of Mah Sing have risen more than 7 percent from a 2013 low on Feb. 4. The stock tumbled 12 percent in 2015, the biggest annual drop since 2008, compared with a 7.6 percent slide in the Bursa Malaysia Property Index.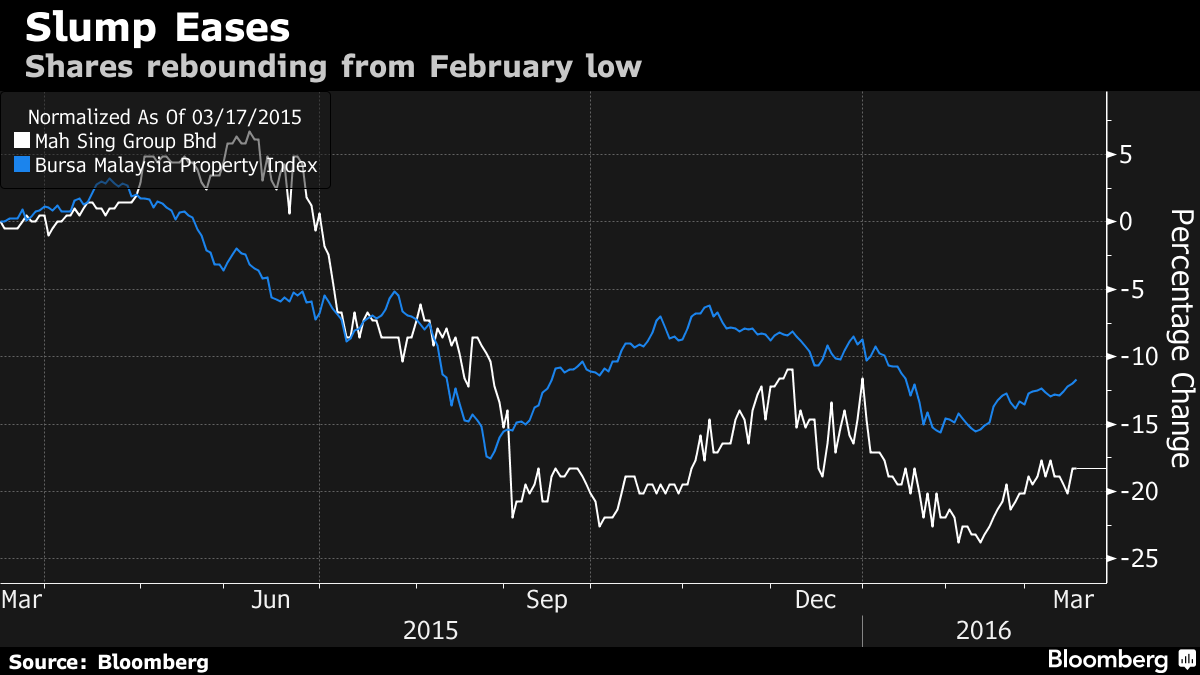 Malaysian home builders have struggled since 2013 when the government started imposing stricter lending rules after cheap credit fueled a buying frenzy and helped contribute to record household debt in the Southeast Asian nation. Mah Sing is lobbying the government for more incentives to boost property transactions, Leong said.
A goods and services tax, last year's slump in the ringgit to a 17-year low and concerns over mounting debt at state investment company 1Malaysia Development Bhd. worsened sentiment among buyers last year amid the biggest housing glut in a decade.
"We have reached the bottom of a downturn, and it will recover in the medium term," Leong said. "The bad news like 1MDB and the ringgit have already been digested, I don't see anymore bad news coming out. It is back to work for everyone to focus on economic growth."
Ringgit Recovers
The ringgit has rebounded 3.8 percent this year, making it the third best-performing currency in Asia.
Mah Sing's rivals are seeing brisk sales. Earlier this month, Eco World Development Group Bhd. sold 85 percent of its apartment project outside of Kuala Lumpur. At Sime Darby Bhd., one of the nation's largest conglomerate, almost all of its 341-unit development were snapped up in one day.
To be sure, earnings are unlikely to rebound anytime soon. Companies on the Bursa Malaysia Property Index are projected to report a 52 percent drop in profit, the only industry group out of 10 to post earnings declines in the next 12 months, data compiled by Bloomberg show.
Mah Sing is on track to reach its 2.3 billion ringgit sales target in 2016 and anticipates selling more "medium range to high-end properties" next year with the greatest potential in Kuala Lumpur, he said. The company wants to replenish its land bank after it halted such purchases last year for the first time since 2005.
"I know very well about all the good land in Kuala Lumpur," Leong said. "When the weather is bad and turbulent you better don't fly. Now the skies are clearer."
Source: Bloomberg. Date: March 16, 2016
http://www.bloomberg.com/news/articles/2016-03-16/mah-sing-says-shopping-time-for-land-as-malaysia-rebound-seen